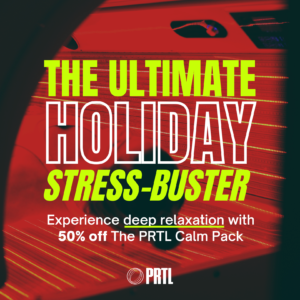 This Week's Special:
50% off The PRTL Calm Pack

Offer Deadline:
Through this week only

"Nutshell" of Special:
Get 50% off our most effective stack to for deep relaxation, "The PRTL Calm
Pack"

Price: $74.50 instead of $149

Who Should Grab This Deal?:
Anyone who wants to experience deep relaxation of their body & mind, sleep
better, or Improve mental health & mood.

Here's What You Get:
– You get a soothing session of red light therapy to help you sleep better
and improve your mood.. in only 15 minutes.
– You get a dry flotation session that uses weightlessness to gives you
deep calm and peace without having to try hard (or get wet!).
– You get to entrain your brainwaves with NuCalm for instant mental clar–
ity and restoration.
– You get use of the Pulsed Electro-Magnetic Field machine to boost re–
laxation, full-body energy, and your body's natural recovery process..

Offer Deadline:
This offer is good through This Week Only – so claim your deal right now before it's gone!

More Details:
You can get all the details about the "PRTL Calm Pack" HERE (on the regular
sales page) – but you can only claim the special deal price from this page
you're on right now.