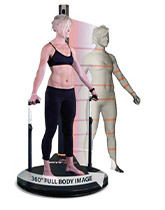 Fit3D uses its own proprietary body fat algorithm that is based on data gathered from medical research partners that use both the ProScanner and a DXA body fat machine. Fit3D's body fat % is based off anthropometric measurements of more than 1,000 scans for which they also have DXA data. The Fit3D body fat algorithm correlates with DXA body fat data. Why correlate with DXA? Aside from costly MRI scans, DXA scans are the gold standard for body composition data, common in medical research facilities, yet not easily accessible for consumers. 
WHY IS MY BODY FAT % INCREASING?
Your body fat percentage is your fat mass divided by total mass. Lean mass is made up of everything that is not fat, meaning your muscles, bones, organs, water and other tissues. So, if you're noticeably decreasing your total mass, while your fat mass stays the same, your body fat percentage will increase. Even if your fat mass is decreasing, total mass is decreasing faster, resulting in an increase of body fat percentage. 
"THE FIT3D BODY COMPOSITION RESULTS ARE DIFFERENT THAN WHAT I'M USED TO..."
There are different ways of measuring body composition, each with its it own degree of inaccuracy. The most important part of keeping track of your body composition data is to be consistent with your measuring process. 
HOW DOES FIT3D ESTIMATE MY BASAL METABOLIC RATE?
Fit3D uses the Mifflin St. Jeor formula to calculate BMR. There are multiple formulas used to calculate BMR. Nowadays, the Mifflin-St Jeor equation is believed to give the most accurate result and it's what we use in this calculator. This BMR formula is as follows: BMR = (10 * weight / 1kg + 6.25 * height / 1cm – 5 * age / 1 year + s) kcal / day, where s is +5 for males and -161 for females